Moose and deer antlers from Sweden since 2012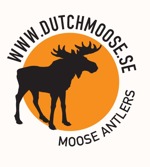 We are a Dutch family business in Våthult, in the south-west of Sweden. We provide our customers with Swedish products of nature, mostly moose and deer antlers, but even some original moose, roe deer and other souvenirs from the forests around us.

The majority of our customers visit and order their products through contacting us via email or telephone, others visit our fysical showroom in Simlångsdalen. Please tell us if you want to visit us. We speak English, Swedish, Dutch and German.
If you want to visit our shop in Våthult please contact us by phone, sms or email and we will find time for you. You can even order without visiting us. Please have a look at all products on this website.


Follow us on Facebook and Instagram for more moose facts, photo's and products