Medium sized moose antlers
Each year the moose antler-cycle is the same. In spring time antlers start to grow and by September the growth has completed.

The moose drops its antlers in the winter somewhere between December and February.

On this page we show some of our medium sized moose antlers, bigger and wider than our small ones.
Name: Angelo
Points: 4
Spread: 57 cm
Size of shield: 40 x 27 cm
Characteristic: shot October 15, 1991

Price: 560 SEK / 55 Euro
Name: Klaus
Points: 4
Spread: 83 cm
Size of shield: 49 x 30 cm
Characteristic: exclusiv wooden shield in brown/yellow

Price: 1.070 SEK / 105 Euro
Name: Tim and Tom
Points: 4 and 5
Spread: 70 cm
Size of shield: 38 x 27cm
Characteristic: two pairs of antlers, by same owner.

Price: 900 and 950 SEK / 87 and 92 euro Euro.
Special offer 1700 SEK/165 Euro for both.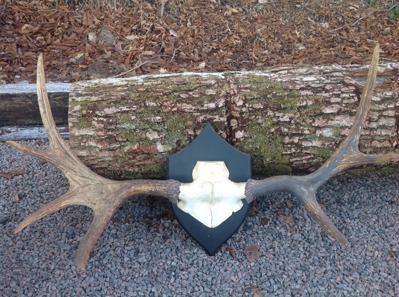 Name: Sonny
Points: 7
Spread: 96 cm
Size of shield: 39 x 24 cm

Price: 1.300 SEK / 130 Euro