Our fysical moose shop in Simlångsdalen is full of souvenirs. Here you'll find some of them. Be aware that you probably find more unusual/not mainstream moose souvenirs in our shop. We often don't have large amounts of the same souvenirs, but focus on quality rather than quantity. Most of them are easy to send by mail within and outside Sweden. Contact us for more info.
Roe deer antler bottle opener
With Dutchmoose inscription
Total length 20 cm
Price:
160 SEK / 16 Euro
Dried autumn cantharelles (mushrooms)
Matches around one liter of fresh mushrooms.
Picked in the forests around Simlångsdalen, autumn 2017.

Price per glass jar: 50 SEK / 5 Euro
Moose glass coasters (made of plastic)

Price: 40 SEK / 4 Euro (four pack, glass not included).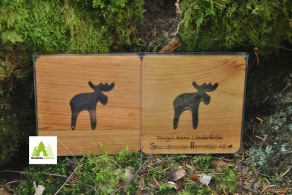 Moose wooden cooasters

Price: 150 SEK / 15 Euro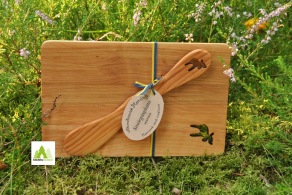 Moose wooden bread board with knife

Price: 90 SEK / 9 Euro
Moose Tea towels
Size: 46 x 71 cm
Price: 60 SEK / 6 Euro
Moose pins
Size moose pin: 2,4 x 1,9 cm.
Size moose head pin 2,6 x 2,4 cm.
Price moose pin:
50 SEK / 5 Euro
Price moose head pin:
70 SEK / 7 Euro
Miscellaneous moose pins
Size: 2 x 2 cm
Price:
30 SEK / 3 Euro
Moose jaw
Size: 19 x 7 cm

Price: 80 SEK / 8 Euro
Moose sound

Price: 40 SEK / 4 Euro